POOL PARTY PLANNER  IN DELHI  GURGAON NOIDA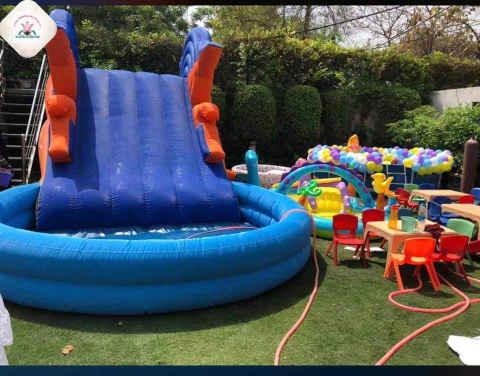 Contact us if you are looking for Pool party planner for events and parties in Delhi NCR
Pool Party Organiser in Delhi – June 2022
Planning a pool party via the inflatable swimming pool ? Are you seeking to have a small and quiet get-together? Perhaps you're searching out huge and loud joyful celebration? No matter how you choose to throw your poolside party, we've got you protected. Need thoughts for a subject, drinks, food, decorations, games or invitations?
Our renowned luxury pool party planner team members are experts in creating truly bespoke pool party birthday celebration in Delhi that will stay in your memory for a lifetime. If you are considering a pool party dinner near a inflatable bouncy swimming pool, a bespoke birthday party in your back garden with pool bouncy, or an inflatable in-garden swimming pool bouncy party for your family and friends, Swimming pool bouncy castle on rent , whenever you need  pool party planners in Delhi, Gurgaon, Noida, Manesar, Ghaziabad  & Faridabad, we will ensure that  your occasion is truly memorable.
Showmaqers has experienced pool party planners coordinators to take care of every detail for you, delicious catering, fresh cocktails, entertainment that blows you away. Our expert team regularly works with the best venues, caterers, & suppliers in the industry, and we know how to pull together a stunning birthday occasion to suit your taste. Every little detail is meticulously designed near pool bouncy swimming pool, planned and delivered to create a truly unique pool party celebration!
If you are considering a birthday party for your loved one and you want to transform a venue, marquee, house or garden, our fabulous pool party in Delhi designers will create a spectacular production in the field of birthday party & corporate events to take your breath away. We will make sure your pool party will be the best one you have been to, and the memory will stay with you for the rest of your life! Call our team today, and find out what we pool party planner can do to make your birthday party truly special
If you think about organizing a surprise swimming pool party in summer, you can talk to us in confidence, being discreet is one of our major fortes! We often provide pool bouncy castle on rent to our high profile celebrities or corporate clients in Delhi, Gurgaon, Noida, Faridabad, that need discretion. Celebrate in the best way possible… with party setups, events. View our swimming pool birthday party case study for more ideas.
Whatever entertainment you'd like for your swimming pool party, from A-class celebrity performances to roaming mix and mingle acts, we'll source it for you. We can suggest the perfect entertainment ideas for your birthday pool party games, from DJ's to bands, musicians through to stilt walkers.
For more information on how our swimming pool party planning service works, you may talk to us. We can say hire pool bouncy castle, party setup on rent in Delhi & NCR