MECHANICAL BULL RIDE GAME ON RENT FOR EVENTS & PARTIES IN DELHI NOIDA GURGAON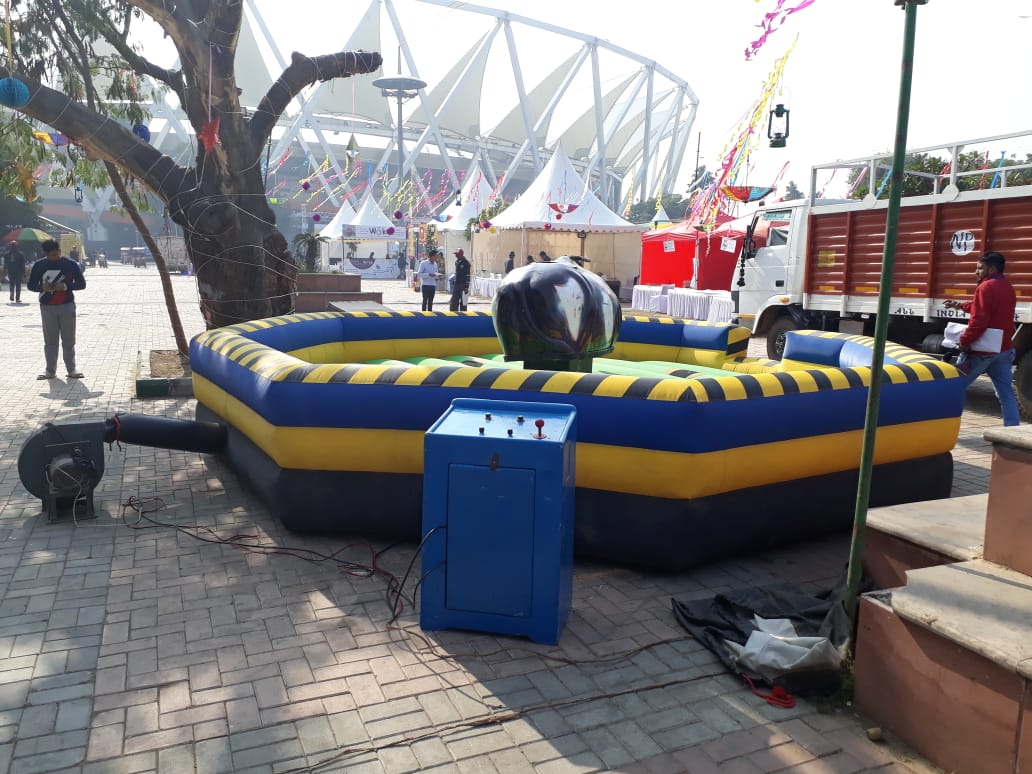 Showmaqers provides mechanical bull ride game on rent for birthday party and events in Delhi, Gurgaon, Noida, Faridabad & Ghaziabad. This ride is fun for every one. You will enjoy the ride as this ride is very exciting because the bull moves from up to down , from left to right and goes round and round and zig-zag.

Bull ride on rent in Delhi NCR
Mechanical bull ride is found in carnival and event too. Bull rides are fun rides found in carnivals and fairs where a child sits on the mechanical bull and once the coin is inserted, it rocks back and forth just like the movement of a bull in a bull ring.
Equipment – Bull with bouncy, Leather gloves, and Helmet
Player – Single player
This mechanical bull ride is attractive to teenagers and adults.This would be a lovely addition to a birthday party with themes like carnival or circus. The bull ride organizer can bring the machine to the party venue and charge by the hour when hired for a birthday party, corporate events, family day /annual day.
A motor to control the mechanical bull ride to safely control the ride and ensure safety of the rider. This feature allows the operator to stop the ride prior to a rider being hurled.
Bull ride operator in Delhi NCR
The trained operator at the variable speed control box regulates the unit's Buck and Spin speed, as well as spin direction. The equipment has the capability of starting rides very slowly and speeds can be advanced according to a rider's ability. It can go slowly and simply spin for beginners and run at greater speed for experts. The mechanical bull as an entertainment device as well as the commercial use of mechanical bulls gained popular appeal. Keep your feet forward and turned out. When the bull goes forward, lean back; when it goes back, lean forward." Mechanical bull ride is perfect to the adult party and birthday party.
Contact us if you are looking for a mechanical Bull Riding game on rent for events and parties in Delhi, Noida, Gurgaon, Faridabad or Ghaziabad.